Corrective Exercises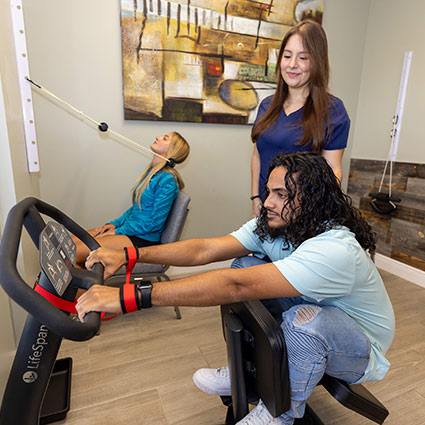 The foundation of our care at Midtown Clinic of Chiropractic is chiropractic adjustments—but we don't stop there. Addressing the soft tissue component of your condition or issue is an important aspect of our approach to long-term wellness.
Disuse Injuries
We all have favorite positions we sit or stand in, habitual movements, and activities that we repeat over and over. For many of us, this includes a large amount of time spent in front of devices like phones, tablets, computers and TVs.
Our repeated movement patterns lead to some muscles not being used, while others are overused. These injuries can weaken your frame, contributing to spinal misalignments and other injuries over time.
NEW PATIENTS

Our Approach
We stress the importance of education and understanding how to take care of your body as a whole. Your body won't perform like a Ferrari if you don't care for it like a Ferrari!
We take the time to listen and understand your habits and activities, so we can help educate you about how your patterns of movement contribute to your pain or dysfunction. Based on your specific situation, we will teach you stretches and exercises to restore stability and strength to the affected muscles.
This education will continue throughout your care here—our goal is to help you build a toolbox of different stretches and exercises you can do at home, so your adjustments hold longer and you don't have to come in as often. We want to empower you with education and actionable advice that you can use to keep yourself healthy.
Of course, your stretches and exercises will be customized for your specific needs by
your chiropractor
, and for families, we'll create individualized plans for every member.
Helping Athletes
Athletes often experience overuse injuries when they rely too much on specific muscle groups. We focus on education and filling in the knowledge voids to help you understand how corrective stretching and exercise can help prevent injury and maximize performance.
Schedule Today
Contact us today to get started with customized care to help you get the most out of life.
CONTACT US

Corrective Exercises Lake Worth, West Palm Beach FL | (561) 533-3884