Chiropractor in West Palm Beach
Patient-Centered Care
Helping patients of every age—starting at day one—achieve optimal health is our mission at Midtown Clinic of Chiropractic. With customized care, education, and a wide range of chiropractic adjusting methods and healing therapies, we strive to help individuals and families take their health to the next level.
Every patient we see receives care tailored to their specific needs and goals—whether that's helping a newborn start life with the healthiest spine and nervous system possible, assisting an athlete in achieving their peak performance, providing care for someone hurt in a car accident, or giving an expecting mom all the tools and education she needs to have the birth process she's always wanted, or whatever your goals may be.
We meet you where you are and design your care plan with your unique goals in mind. Our experienced chiropractors will offer education along the way and do everything possible to help you achieve your goals. If our office is not the right answer for your specific situation, we'll point you in the right direction.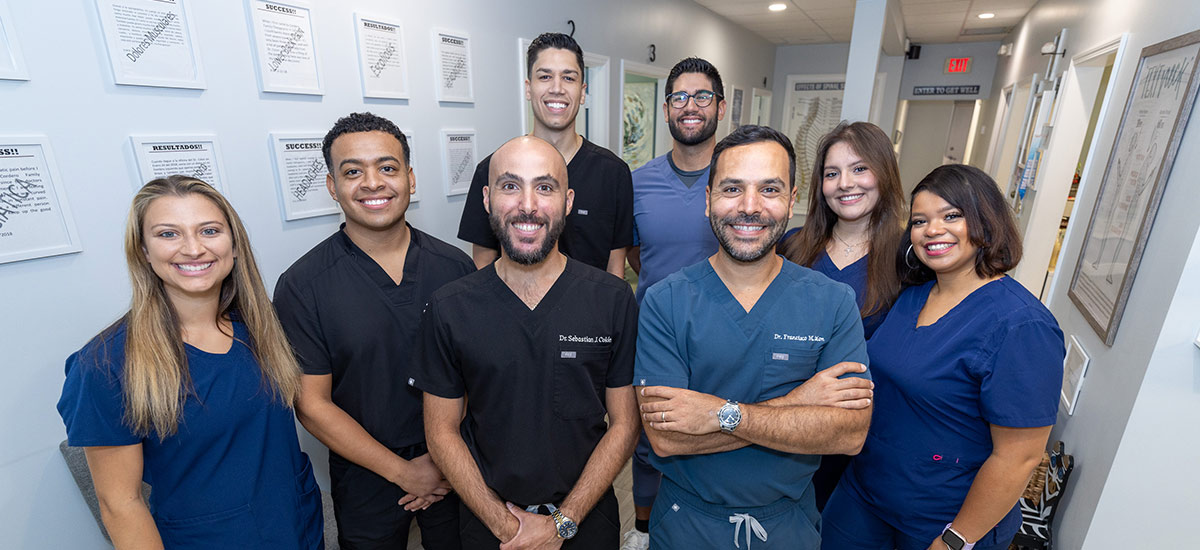 Serving the Community
Our chiropractors, Drs. Francisco and Sebastián Colón, are brothers who grew up with chiropractic care themselves in Puerto Rico. Having experienced firsthand the importance of regular chiropractic to help overcome both childhood and adult health issues, they are committed to providing that same care to families in our community.
After graduating from Life University, they purchased our first practice in 2013. In 2020, they opened our West Palm Beach location to serve more of the South Florida area. The office is off US1, near the shore, and it's a beautiful, welcoming space that our patients consider their "happy place." As a true family practice, both our space and our staff are kid-friendly and fun.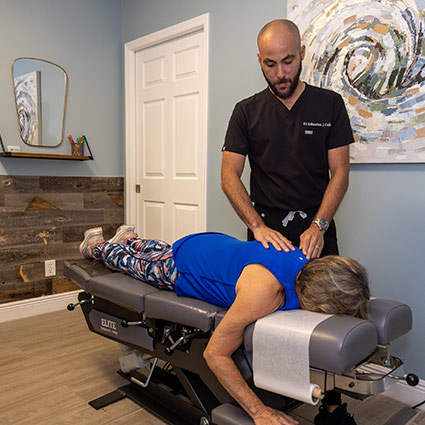 The Journey to Wellness
Finding long-term health and wellness is a process; that process often begins with pain. But even though pain might be what prompts people to seek our care, the real issue is what that pain keeps them from doing in life. We want to help you do everything you want, without limits.
Our care is a step-by-step journey to wellness. We start with relief care, which is getting you out of pain so you can function. The next step is healing, where we work to get your body back to its pre-injury condition. Corrective care comes next, and it involves getting your spine and posture back to optimal alignment. And finally wellness—this is where we help you keep your optimal spine and nervous system health for a lifetime.
Chiropractic adjustments are the cornerstone of your care plan, which will be augmented by various healing modalities, such as e-stim, ultrasound, intersegmental traction and stretching and strengthening exercises. We use this holistic, well-rounded approach to help your body get healthy and stay healthy.
Get More Out of Life
We're passionate about serving our diverse community of families, retirees and athletes, who all have one thing in common: they're active! We know you need to move, function and feel your best to do your job, play golf, fish, hang out with your kids or grandkids, and just be fully engaged with life.
No matter what your specific situation is, we will take the time to understand what your condition keeps you from doing, and we'll work with you to create a care plan to help you achieve your unique goals.
Many of our patients begin care with the simple goal of getting out of pain. However, once they experience the myriad health benefits that chiropractic care can bring, they often decide to continue receiving regular care to maintain the new level of health and wellness they've come to appreciate.
Convenient, Accessible Care
To get to the root of your health concern, we do a thorough consultation and examination—you'll be with us for about an hour for your first visit. With bilingual staff and doctors, along with coloring books and activities for the little ones, we strive to make getting care as easy as possible. We also offer various payment options.
Schedule Today
Contact us today to book an appointment for yourself or your family.

Chiropractor West Palm Beach FL | (561) 533-3884