Chiropractor in Lake Worth
Our Patient-first Philosophy
At Midtown Clinic of Chiropractic, our entire focus is on what you need to achieve your highest health potentials. We tailor care to help you meet your immediate goals. We offer education and support, along with various adjusting techniques and other healing modalities, to help you achieve long-term wellness you may not have dreamed possible.
Helping newborns get off to a healthy start in life looks different in practice than helping a professional athlete perform optimally, or helping a person hurt in an accident heal, or helping an expecting mom have the easiest, safest delivery possible—but the philosophy behind each is exactly the same. We want to restore optimal spine and nervous system health, so your body can function as it's supposed to, allowing you to get the most out of life at any age.
Meeting each person where they are puts people at ease and assures them that we are focused on their specific goals and will do everything in our power to guide them on that journey. In some cases, our practice is not the ideal approach, and when that happens, we do our best to get you to the right type of provider for you.
MEET OUR DOCTORS

Our History
As brothers growing up with chiropractic care themselves, Drs. Francisco and Sebastián Colón understand the value of regular adjustments to help kids and adults maintain the best spinal and nervous system health possible. Both graduates of Life University in Marietta, Georgia, came to South Florida to provide true family care to the many families in our community. Our practice has been in the community since 1995, becoming Midtown Clinic of Chiropractic in 2013 after Dr. Sebastián and Dr. Francisco purchased it from the retiring owner.
In 2019, we remodeled and doubled the footprint of our practice to better serve our patients. The office is beautiful, welcoming, and very kid-friendly.
Our patients
love coming here to de-stress and focus on healing for part of their day.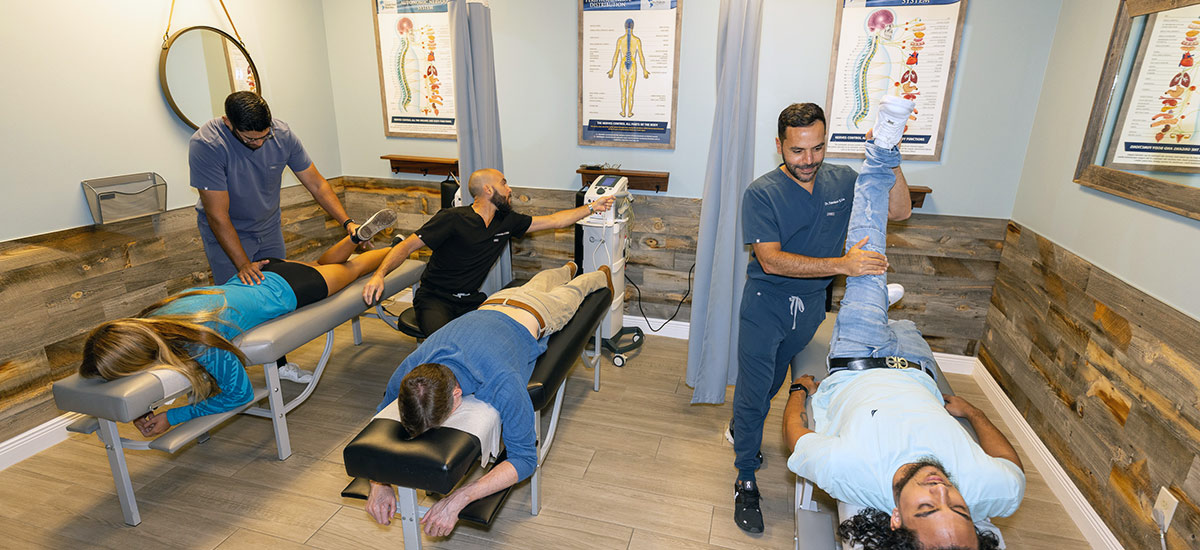 A Life Worth Living
Getting you out of pain is the first step in your wellness journey. Although pain might be the motivator, most patients seek our care because their injury or condition prevents them from getting the most out of life. It's our goal to help you be fully engaged with life, express yourself fully, and live life with no limits.
Our stages of care include relief—to get you out of pain; healing—to restore your body to its pre-injury status; corrective—to get your spine and posture back on track; and wellness—to help you keep your newfound spinal and nervous system health for a lifetime.
In addition to chiropractic adjustments, we offer various healing modalities, such as e-stim, ultrasound, intersegmental traction, stretching and strengthening exercises, to help you achieve your highest level of health effectively and efficiently.
Work and Play
Our community is diverse, with lots of hard-working families, weekend warriors and leisure-time enthusiasts. We tailor care specifically to help you meet your unique goals. Whether that means working a full day without pain, enjoying your fishing or golfing activities, or just being more present with your kids or grandkids—we take the time to understand how your condition affects what you wish you could do in life, and design a care plan to help you get there.
Once patients experience the benefits of a healthy spine and nervous system, they're usually eager to maintain that new level of wellness for themselves and their families. We make it accessible to do that through our payment options and convenient payment plans.
What to Expect
Your initial consultation and examination will be thorough, as we are determined to locate and address the underlying cause of your symptoms. Plan on being here for about one hour. We have Spanish-speaking doctors and staff, and we provide coloring books and other activities for the kiddos.
Book Today
Contact us today to schedule your first appointment.

Chiropractor Lake Worth FL | (561) 533-3884